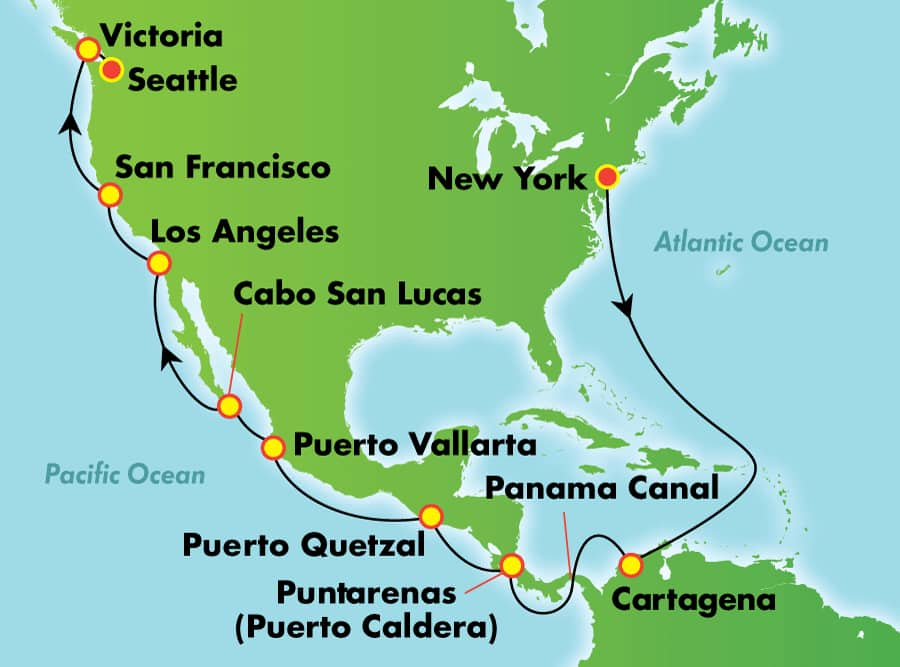 I have been salivating, considering breaking open my 401k a little to take this cruise. If my balance breaks a certain level and stays there for a while, I may just withdraw enough cash to pay for this cruise (and the taxes on the withdrawal itself) to take this once in a lifetime cruise.
- - - - - -
So far, the people in my life are encouraging me to take this cruise. I'd be away from home over 3 weeks, as I'd want to do some sightseeing in Seattle before going home. Doing incomplete research (JetBlue prices for the return trip aren't posted yet), I figure that I should budget at least $4,000 for the trip, broken down as follows:
Base Fare - $2298 (includes $1149 single supplement)

Port Fees/Taxes - 543

Gratuities - 315
-----------------------------
Simple Cruise - $3360


Trip to NYC Pier - 60

from Seattle Pier - 40
------------------------------
Simple land cost - 100

Airfare (SEA-JFK) - 250

Trip JFK to Home - 60
------------------------------
Minimum Cost - $3870
Of course, this cruise will cost more than that. Add on a few shore excursions, a day or two in Seattle, souvenirs, and miscellaneous onboard expenses (such as drinks and laundry), and one will likely hit the $4500 price point for the trip.
If I don't take this trip next year, there may be another cruise I could go on. A similar cruise to this one would have left NYC in January 2020, and deposited me in San Francisco. This cruise was discounted last year, and it would cost me only $100 less than the cruise taking me to Seattle.
Ideally, the person who told me about this cruise would be on it. However, she will be with her parents, as her mom is scheduled to have an eye operation then. (In Canada, they ration healthcare by forcing people to wait for non-essential healthcare procedures. We ration healthcare by use of an irrational pricing and insurance structure.) So she will not be able to take this cruise with her parents until 2021.
Another consideration for this cruise is that it would be criminal of me to take this cruise, disembark in Seattle, and NOT see my nephew. This means that I'd need to take one male outfit with me, so that I could see him shortly after I arrive. (But where would I change clothes and remove my makeup and wig?) Luckily, I'd be seeing him in less than 2 weeks, as my niece will be married in NYC towards the end of May.
- - - - - -
If I do take this cruise, I will need to hold my mail for almost a month and pay virtually all my bills in advance. Can I afford this kind of hit to my pocketbook? I'm not sure. One expense that would go way down is food - I'd be able to skip buying anything to eat for almost a month. There would be no Mickey D's, no diners, and no special dinners with friends. If I average $30/day on these expenses, I'd save about $210. <mumbling "Big fat hairy deal."> So, my costs still remain in the $4000 - $4500 range.

Do I really want to take this trip? Or, do I find a way to do a Hawaii cruise instead?
Note: As of 11/20/19, the price for the cruise has dropped $100/pp - a $200 savings for me.